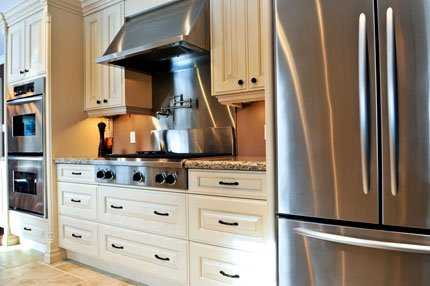 Ukon Appliance provides appliance repair in Los Angeles of household and commercial appliances. Our employees are highly qualified professionals who have years of experience. This allows us to quickly and easily fix appliances of all makes.
Our company use only original spare parts, providing appliance repair in Los Angeles which guarantees high quality and long life of your washers, dryers, refrigerators, ovens. Parts which are made not by the manufacturer of your appliance, can cause the irreparable harm.
We take care of our customers, making the cost of services as low as possible, ensuring the quality work and  use of spare parts from the manufacturer.
Highly skilled technicians of our company quickly identify the cause of the problem and fix it. You can find out the estimate of the appliance repair immediately after the diagnosis, before the work is done. This will give you the opportunity to decide wether to fix your appliance, or it's time to buy the new one. The diagnostic fee is waived if you do repair with us (you pay only for the parts and labour).
In addition to maintenance and service of your appliances, we also provide advice on their proper use and care. This will help you to extend the life of your equipment, as well as save time and money.
Impeccable level of service and quick repair – these are the main principles of our work.
A positive feedback of our satisfied customers indicate the high quality of appliance repair in Los Angeles by our company.
Our technicians are factory trained, ready to schedule a visit to your home or business, and offer you many benefits, including discounts.
It's no secret that now a lot of companies perform Appliance Repair in Los Angeles. Therefore, to be competitive, our company  is constantly improving the quality of services, technicians regularly improve their skills, we are buying a new high-quality equipment for use with modern appliances. We appreciate every customer review, and of course we are interested in the fact that these were the only positive reviews.
Our Service center offers appliance repair in Los Angeles for more than six years, and during this time we have built up rich experience of repairing household and commercial appliances. We value our reputation and always try to perform requested services properly.
We are open 8 am to 5 pm Monday through Friday. Call (323) 275-7328.
Lic. # A45029